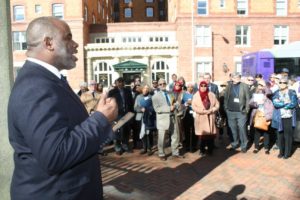 Day for All People is our annual Advocacy Day.  In 2021, we will be gathering virtually and over the span of a week.  People of faith and goodwill from across Virginia are invited to join together to make your voices heard on economic, racial, social, and environmental justice issues.  You will learn about our priority policy issues from dynamic speakers and workshops, meet with your state legislators, and engage with advocates in your region.
2021 (virtual) Day For All People
Monday, January 18 - Friday, January 22
Photos from 2020 Day for All People
Martin Luther King Jr. Day of Service
Monday, January 18th is MLK Day.  You are encouraged to safely participate in a local community service activity or event.  A list of some opportunities is available at the end of our Resources section on this page.
Legislative Visits
During the week, you can participate in two virtual legislative visits: one with your State Senator and one with your State Delegate.  These visits will be scheduled in the morning on Tuesday, Wednesday or Thursday.  Each visit will be 20-30 minutes.
Plenaries, Workshops & Special Sessions
All afternoon plenaries, workshops and special sessions are optional.  You can sign up for one or all of them.
Regional Meetings
On Friday, January 22 from 9am - 10am, you are invited to join a breakout room to engage with others in your region.
Prayer Vigils
On Friday, January 22nd at noon, you are invited to participate in (or lead with a couple friends) a prayer vigil at one of five regional locations, or one of the lynching sites across Virginia, or in your congregation's parking lot.  We are holding these prayer vigils as part of our campaign to abolish the death penalty in Virginia.  A litany to read during your prayer vigil is available for download in the Resources section below on this page. You can register to attend one of our five regional prayer vigils here: tinyurl.com/nodp2021
Spread the word! Download or share the link to invite your family, friends and colleagues to advocate with you!
A lineup of state, national and international leaders and advocates are confirmed to keynote each daily plenary session. Read their bios to learn more about them.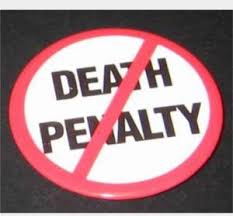 Litany for Prayer Vigils at Lynching Site/Execution Site
Modern-day death penalty is birthed out of Virginia's history of slavery, lynching and Jim Crow segregation. As we prepare to support legislation to abolish the death penalty, thank you for participating in our prayer vigils throughout the state.  Litanies have been prepared for each region of the Commonwealth, with lists of the names of the individuals whose lives were lost in a lynching in that respective region. The litanies also contain COVID safety suggestions for gathering.
Eastern Region Litany        Central Region Litany         Northern Region Litany