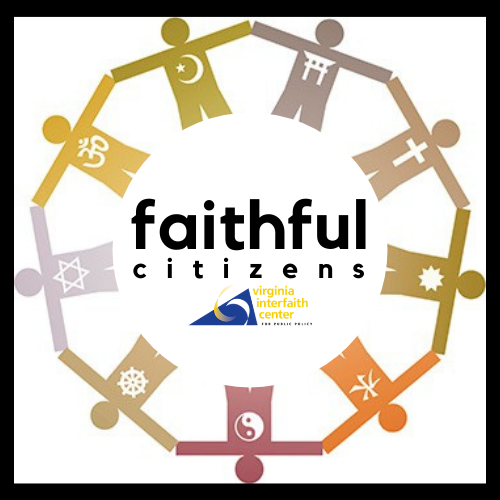 By Dora Muhammad, VICPP Congregation Engagement Director —
We vote our values. We don't sideline them. We live out our faith in the public square. We don't get it confused. We harness our power to hold elected officials accountable. We are Faithful Citizens and we will vote in the 2020 November General Election. Early voting begins in Virginia on Friday, marking 45 days until Election Day, November 3rd.  Momentum to get out the vote is building every day and I invite you to get involved in any way you can.
We are kicking off our Faithful Citizens Action Week mobilization with Faith & Democracy Sunday on September 20th, a call to action by the Justice & Witness Network of the United Church of Christ's Central Atlantic Conference.  On Tuesday, September 22nd, National Voter Registration Day, all around the country registration activities will take place in-person or virtually. We have designed a robust toolkit to help clergy of all faiths lead their congregation in participating in these two observances, as well as mini toolkits for individuals to participate in the entire week of action.
On Thursday, September 24, our weekly Facebook LIVE show will feature advocacy partners on both sides of the debate of the efficacy of Amendment 1, which will be on the November ballot. We will delve into the issues that would warrant voting 'no' in November after the fight for an equitable redistricting process led advocates all the way to the U.S. Supreme Court. What is that about? Tune in to get a clear understanding of the facts and myths about the amendment.
We culminate our mobilization with Rides to the Registrar on Saturday, September 26th, when we encourage you to grab a friend or neighbor—or two or three—and carpool to your local registrar's office or an early voting location to cast your votes or drop off your absentee ballots.
Send selfies to me, or post pics on your social media and tag @vainterfaith throughout the week so we can share in a shoutout to inspire others to get engaged too. We are Faithful Citizens. And we will vote.