Our regional chapters and affiliates work at the grassroots level, drawing in more voices to the call to advocacy. Getting involved with a local chapter is a great way to keep up with all that is happening, engage in local events, and help expand the Center's impact with fun and interactive programs.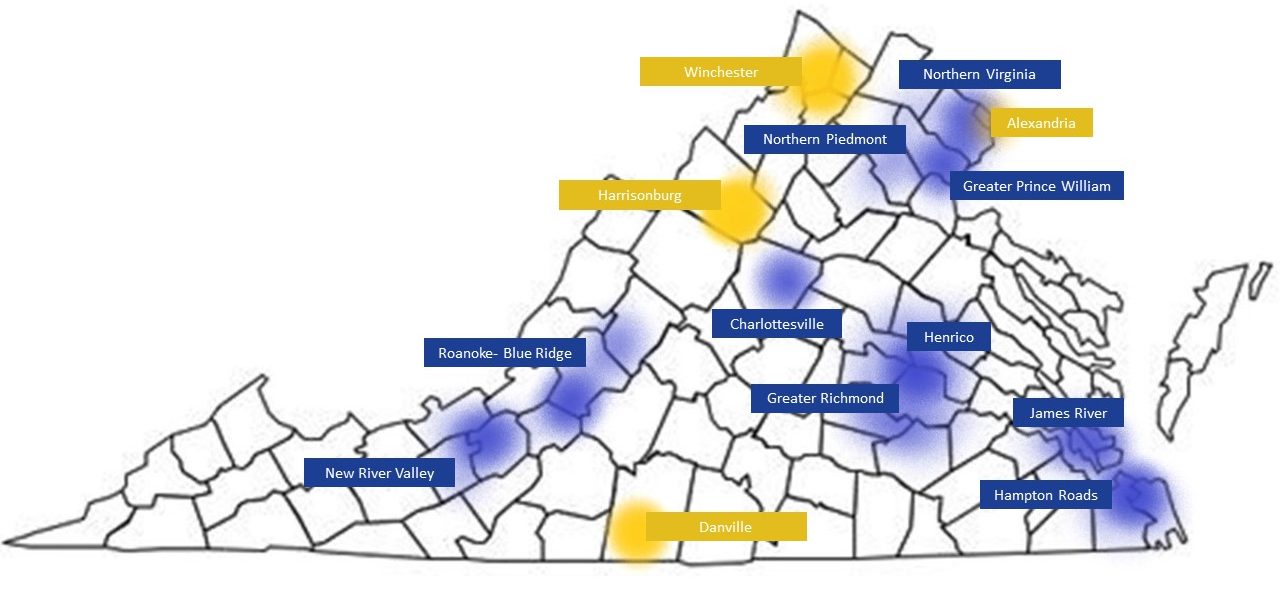 Key Activities for Chapters and Affiliates
We encourage our chapters and affiliates to do 3 things throughout the year:
Legislator Visits
With support from the Center, chapters organize to meet with legislators in their home districts to inform them of the key policy priorities of the Center and ask that they be champions for progress.
Educational Programs
Throughout the year, chapter members collaborate with the Center to put together educational programs including film screenings, panels, and speaker series. These programs increase community engagement and further educate the public about Center policy priority issues that impact low-income, vulnerable, and underrepresented communities in the Commonwealth of Virginia.
ex. Social Justice University
One of our flagship programs, Social Justice University, is a series designed to teach members of the faith community how to promote social justice by becoming advocates for systemic change.  SJU attendees receive training materials and hear from leaders about issues, advocacy techniques, and grassroots organizing.  As a hands-on learning experience, participants are empowered to take these skills back to their local community and bring more voices into the legislative and political process.
Social Gatherings and Interfaith Fellowship
Chapter members get together throughout the year to fellowship and share in the spirit of social justice. Events include coffee hours, letter-writing sessions, networking house parties, communal meals, prayer services/vigils, and group service projects.
Starting a new Chapter or Affiliate
Our Chapters

We currently have 10 regional chapters and 4 affiliated groups across the Commonwealth and invite you to become a part of the local grassroots efforts in your community! Visit our chapter pages and connect with the leadership team with the email contact listed below to see how you can get involved.
Charlottesville-Albemarle
Contact: VICPP Staff
Hampton Roads - (Norfolk, Virginia Beach, Portsmouth, Suffolk)
Contact: Chapter Coordinators Team
Lead Coordinator: Rabbi Ellen Jaffe-Gill
Henrico County
Contact: Chapter Coordinators Team
Lead Coordinator: Jessica Siler
James River (Hampton, Newport News, Jamestown, Williamsburg, Yorktown)
Contact: Chapter Coordinators Team
Lead Coordinator: John Gregoire
Chapter Admin: Tim Kloth
New River Valley (Blacksburg, Christiansburg, Montgomery County)
Contact: Chapter Coordinators Team
Chapter Admin: Rachel Parsons
Northern Piedmont (Warrenton, Culpeper)
Contact: VICPP Staff
Northern Virginia (Arlington, Alexandria, Falls Church, Fairfax County)
Contact: Chapter Coordinators Team
Lead Coordinator: Anne Murphy
Greater Prince William (Prince William County, Lorton, Manassas City, Manassas Park, Stafford County, and Fredericksburg)
Contact: Chapter Coordinators Team
Chapter Admin: Dora Muhammad
Greater Richmond (Richmond, Midlothian, Glen Allen and Chesterfield County)
Contact: Chapter Coordinators Team
Chapter Admin: Hannah Sattuluri
Roanoke-Blue Ridge (Roanoke County to Rockbridge County)
Contact: Chapter Coordinators Team
Chapter Admin: Sarah Pendegraph
---
Our Affiliated Groups
Danville Ministerial Alliance
Contact: Marvin Warner
Interfaith Association of Harrisonburg-Rockingham
Contact: Diane Bayer
Potomac Episcopal Community (Alexandria)
Contact: Elizabeth Biddle
Valley Interfaith Council (Winchester)
Contact: John Copenhaver 
Interested in getting involved with one of our chapters? 
Contact us and we'll tell you how you can get involved!