According to the Virginia Department of Corrections' own numbers, more than 7,000 people incarcerated in Virginia prisons were placed in solitary confinement units known as "restrictive housing" at some point between July 1, 2018, and June 30, 2019. That number does not include people placed in solitary confinement conditions through other types of housing units in Virginia prisons, let alone Virginia jails or juvenile detention facilities.
What is Solitary Confinement: Solitary confinement is the isolation of a person in a jail or prison cell for all or nearly all day with little environmental stimulation or opportunity for human interaction. Solitary confinement in Virginia is considered 20 hours per day in isolation away from the rest of the prison population for adults, and 17 hours a day for juvenile offenders.
Solitary Confinement in Virginia: Tyquine Lee, 28, spent over 600 days in solitary at Red Onion prison in Virginia from 2016 to 2018. Red Onion is a supermax prison treated as an "end of the line" facility within the penal system. While HB1642/SB1777 was signed into law in April 2019, requiring the Department of Corrections (VADOC) to report certain data related to its use of isolated confinement each year, there are still discrepancies in reporting use of isolation.
The Solution: Solitary confinement should be prohibited except in rare circumstances — such as when a prisoner poses a real and imminent threat of physical harm — and only for as little time as necessary. This legislation will make the Commonwealth safer and more just by demanding that Virginia prisons and jails consider humane alternatives before implementing a dehumanizing and barbaric practice that is known to exacerbate and even cause serious mental illness.
Want to see more? Check out the show on Focal Point by Virginia Public Media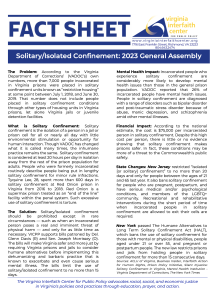 Solitary Confinement Fact Sheet 2023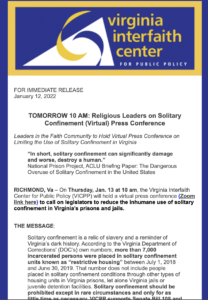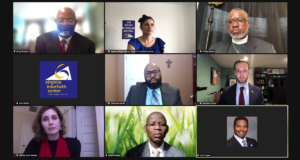 VICPP is pleased to share that we are a member of the Virginia Coalition on Solitary Confinement. The coalition is chaired by David Smith. While incarcerated, David spent 16 months in solitary confinement and now leads the effort to cease the use of solitary confinement in Virginia correctional facilities. VICPP will work to integrate our interfaith base and community into the work of advocacy, direct action, and engagement to end solitary confinement in Virginia. Coalition members include Interfaith Action for Human Rights (IAHR), ACLU-VA, S.A.L.T. (Social Action Linking Together), and Virginia-CURE.
In case you missed our showing of the film, Prison Reform, during our month-long July Film Fest and the live discussion that took place afterward between former VICPP Justice Reform Organizer Rev. Jamar A. Boyd, II and Virginia Coalition on Solitary Confinement Chair David Smith, CLICK HERE TO WATCH the engaging and important discussion.
To learn more about which congregations have denounced solitary confinement, CLICK HERE.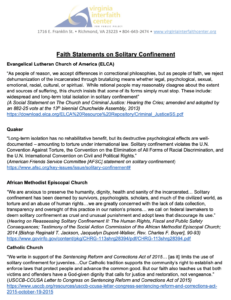 CALL TO ACTION
VICPP is in Need of Our Interfaith Community's Help
Can you help us connect with prison ministries across the Commonwealth? As we engage in the work of prohibiting the use of solitary confinement in Virginia's correctional facilities, we need our interfaith community's presence. Please email contacts or introductions to VICPP Justice Reform Organizer King Salim Khalfani at salim@virginiainterfaithcenter.org.
THE #SolitarySolidarity MOVEMENT
#SolitarySolidarity TOOLKIT
As a movement of people of faith and goodwill, we will need to educate ourselves, our congregations, and our legislators about the need to end solitary confinement. Join the #SolitarySolidarity movement.
VICPP encourages all to join us in planning a #SolitarySolidarity event in October. This is a virtual representation of being locked in a cell. You can host an event in your congregation's parking lot, on your college campus, or in your community. Our #SolitarySolidarity toolkit includes suggestions on planning and promoting the event and a recommended short program.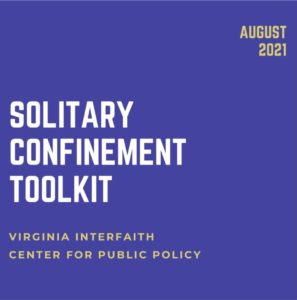 Click here for VICPP's #SolitarySolidarity Toolkit (PDF)
For any questions or more information, email VICPP Criminal Justice Reform Organizer King Salim Khalfani at salim@virginiainterfaithcenter.org.
RECENT UPDATES
Understanding the Issue of Solitary Confinement 
"Since 1990, the number of persons held in solitary confinement exploded. Nationally, it is estimated that between 80,000 and 100,000 prisoners are held in some type of solitary confinement. Across Virginia, over 800 prisoners are in solitary confinement." (per 2018 data collection)
Read more from "Silent Injustice: Solitary Confinement in Virginia" on the ACLU Virginia website by visiting https://acluva.org/en/silent-injustice-solitary-confinement-virginia or simply CLICK HERE.