JUNETEENTH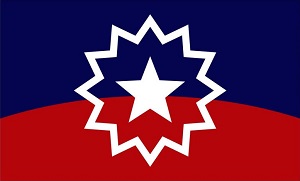 On June 19, 1865, Union troops arrived in Galveston Bay, Texas to deliver the news of the 1863 executive decree that ended slavery to the last remaining enslaved Black people in the country, more than 250,000 in the island city.  A year later, the freedmen gathered to celebrate at Reedy Chapel AME Church, marking the first observance of Juneteenth. In 2020, Juneteenth became a paid state holiday in Virginia, and in 2021, it became recognized as a national holiday by the US Congress. It is a time to celebrate African American culture and independence, reflect on the past, and look to the future. 
Meaning of the Juneteenth Flag
In 1997, activist Ben Haith, founder of the National Juneteenth Celebration Foundation, worked with other collaborators, including illustrator Lisa Jeanne Graf, to create the flag design. The design was revised in 2000, and the date "June 19, 1865" was added in 2007. The flag features a star, a burst, an arc and the colors red, white and blue.
The star represents Texas, the Lone Star State, but also represents the freedom of African Americans in all 50 states. The burst outlining the star is inspired by a nova, or new star. It represents a new beginning for African Americans across America. The arc across the width of flag represents a new horizon full of promise and new opportunities. The colors red, white and blue represent the colors of the flag of the United States of America and are a reminder that those who were enslaved and their descendants were and are Americans. Juneteenth celebrations also often feature the colors red, green and black and the Pan-African flag that was created in 1920 when Jamaican activist Marcus Garvey called for a Black liberation flag.
List of activities to commemorate or celebrate Juneteenth in 2023: