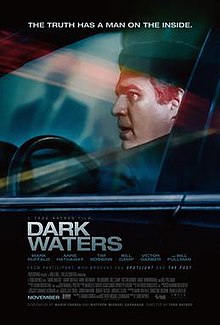 By Monica Lewis, an activist with Virginia Interfaith Center for Public Policy and Virginia Interfaith Power & Light —
It is not always obvious how laws and policies affect our lives.  Unless we are called for jury duty, or traffic court, or have a reason to interact with a lawyer, our experience with the legal system might be limited.  That is my situation.  And it's why courtroom dramas and legal thrillers have given me a glimpse into institutions that uphold the rule of law.
The recent movie, Dark Waters, made me especially thankful for legal work that is being done for the good of society.  The film is based on the true story of Robert Bilott, a corporate lawyer who sued the DuPont chemical company for knowingly exposing the people of Parkersburg, West Virginia, to poisonous chemicals.  In the same way that the Virginia Interfaith Center for Public Policy engages in advocacy work to bring about more just policies, lawyers like Bilott are pursuing justice that will benefit many people.
As a person of faith in the sandwich generation, I feel like I'm always rushing; helping my family and trying to make sense of events unfolding in the news.  My church and my involvement in VICPP enable me to help people outside of my immediate circle.  When I am able to see the systems and structures in our society, I'm often shocked.  I ask, "How did the situation get so bad?" And often, I'm inspired by the good work people are inspired to do, not for themselves and not for money, but for the benefit of others.
Dark Waters is a film that inspired me with Bilott's pursuit of justice. The film also haunted me with its depictions of the hardships some of our neighbors endure.  We learn that DuPont manufactured a chemical, PFOA-C8, that causes birth defects and other health problems.  As the story of Bilott's investigation unfolds, religious imagery is infused in the film, from saying grace before meals to attending church.  Some viewers might not register the significance of these scenes, as they seem a matter-of-fact part of the characters' lives.  Yet, upon reflection, the religious undercurrent of the film carries a message of justice and solace.
There are moments in the film when Bilott doubts whether he will be able to win his case and the battle began to take a toll on his mental and physical health.  We all have experienced similar trials.  It is faith that gives us the strength to go on.  God's love for us and our love for each other enable us to keep going.  There are many strong scenes in the film showing the unwavering support of Bilott's wife and of the respect of his colleagues. Bilott is surrounded by people who acknowledge God's higher law of love.
One scene, in particular, illustrates God's love for us and sent chills down my spine.  The scene depicts a seemingly mundane moment.  Bilott is at a gas station, filling up his car.  The sounds of a sports broadcast are heard on the radio.  A man at the adjacent pump, asks Bilott if he knows the score.  Presumably, this man, with unusual facial features — and whose companion calls "Bucky"– is referring to the sports game, but, on another level, we are reminded of the fight against DuPont.  "Are we winning against injustice?" is the real question.  At the end of the film, before the credit roll, the director Todd Haynes includes a still shot of this scene and identifies this extra as William "Bucky" Bailey, who survived in utero exposure to PFOA-C8.  In that scene, Bucky is reminding Bilott (and viewers) that we can't forget the real people who have been harmed.
Dark Waters includes cameos of other Parkersburg residents as well.  While Darlene and Joe Kiger's speaking parts were played by actors, the real-life Darlene and Joe had small roles as extras.  In an article in the Los Angeles Times, Haynes says he included them as extras because he felt indebted to them for sharing their stories with him.  Just as the film keeps their stories alive, it sheds light on the struggle for environmental justice.  Too often, big corporations have harmed the communities around them as they pursue profit to the exclusion of all else.
The actor who plays Bilott, Mark Ruffalo, is also an activist grounded in faith.  In an interview when the film opened, Ruffalo said it told the story of our time and of the challenges we face as a society, "We are living in a time of revelations.  We see now what our world is and what our world has been, and now we collectively have to make choices about that together." Dark Waters shows us that we must hold corporations accountable for their irresponsibility.
We can take heart that we are not alone.  God will not forget a single person.  God strengthens us when we join in the work of bringing about justice.  Indeed, the triumph of God's will is just a matter of time.
We can answer Bucky's question, "What's the score?" with an affirmative, "We are winning.  We have God's help."
Dark Waters was in theaters at the end of last year and will be available to purchase, rent and stream this spring.
SOURCES:
"Some of those extras in 'Dark Waters' have real-life ties to the film's story," Lisa Rosen, January 1, 2020, Los Angeles Times.
 "Actor Mark Ruffalo blends film and faith-fueled activism in 'Dark Waters," Emily McFarlan Miller, December 10, 2019, Religion News Service.