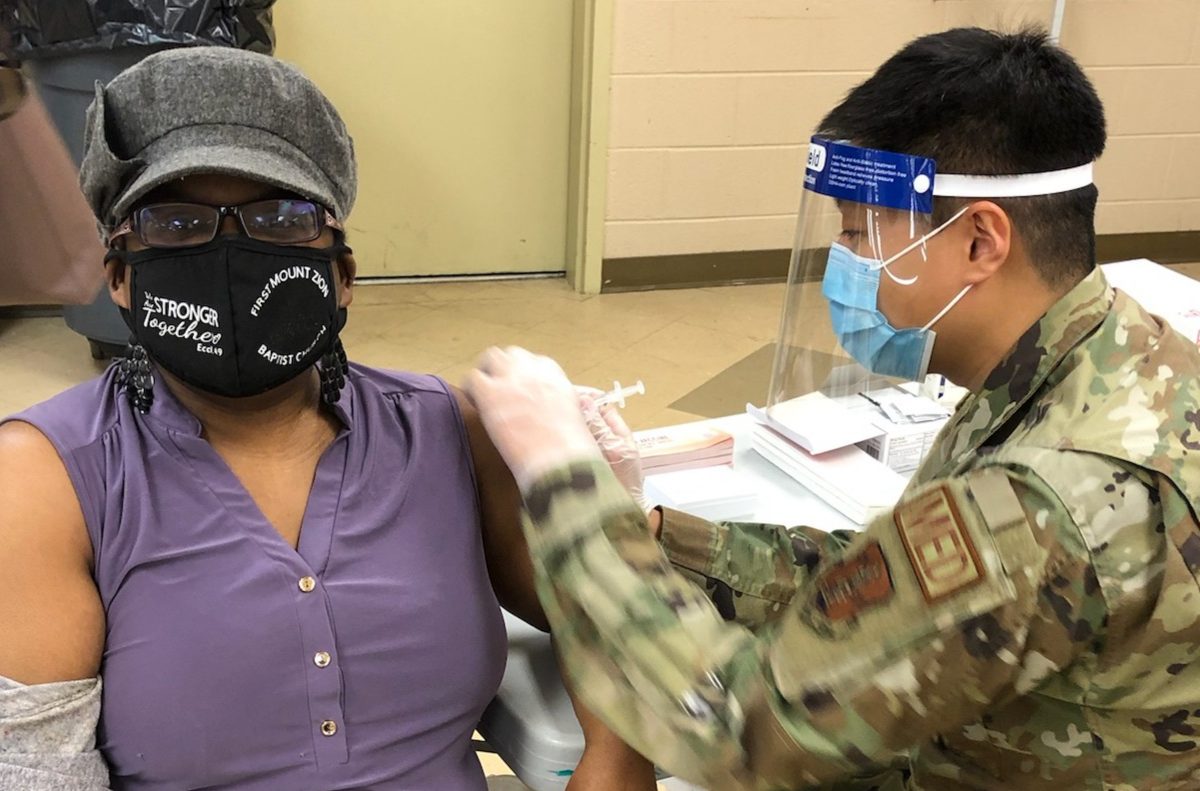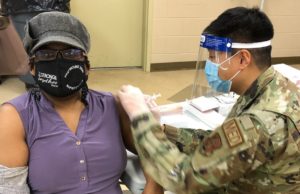 By Dora Muhammad, Congregation Engagement Director, Health Equity Program Manager
PHOTO: VICPP Health Equity Program Manager Dora Muhammad participates in a state-run pop-up vaccination clinic held at First Mount Zion Baptist Church in Dumfries on April 1, 2021.
As a Black woman who is well-aware of my people's treacherous sojourn in this land under the specter of government-sanctioned policies, practices and processes that bring harm, suffering and death, my side eye is ever-present and alert for anything pushed on the "masses" that impacts life.  I am not a scientist.  I have not studied immunology or virology.  Nor have I or the Virginia Interfaith Center been paid to push the profits of a pharmaceutical company or incentivized by the government to promote vaccine delivery.
What I am is a native New Yorker whose roots of family, friends and colleagues still flourish throughout the Big Apple's boroughs and that COVID-19 has killed more than 100 people I personally know since the spread began last March.  I am only now starting to check my voicemails again because the trauma of the daily notifications of a loved one's passing became unbearable for my mental health springtime 2020.  What I am is the Health Equity Program Manager who wholeheartedly accepts the responsibility to stand in the intersection of health and justice with truth and humility with what I know and what I understand.
When I scheduled an appointment to receive a COVID-19 vaccine last Thursday, I decided to informally document every step of the process on VICPP's social media platforms.  I hoped my videos and photos would provide people with important details to become better informed as they grapple with their questions and concerns about getting vaccinated.  My photo of the observation area where health care professionals monitor each person for 15 or 30 minutes after they receive the vaccine to be ready to respond to any severe allergic reaction was one such detail that helped alleviate the fears of several people already.
Deeper fears exist.  One formidable elephant in the room is that a conspiracy is afoot to depopulate the country by killing Black people with the COVID-19 vaccine.  If that was the plan, it was not effective because the early phases of the vaccine rollout involved locations of groups that skewed mostly white.  Black people were not getting vaccinated.  So much so, that the issue of equitable distribution was elevated to national discourse about the marginalization of Black and Brown communities though they are hardest hit by the virus.
Now that the delivery phase includes more Black people, the conspiracy prevails that the killer concoction is only being sent to communities of color.  This would be a futile effort to target Black folks because the vaccination clinics are not racially assigned; people of all races are scheduled for vaccination appointments at every clinic.  What's more, the needles are not color coded; they all have the same label and are the same size; nothing distinguishes one from the other.
This past Sunday, I had the spontaneous privilege of watching behind the scenes as one of our partners in our health equity work, George Mason University, as they prepped and ran a mobile vaccination clinic.  There weren't multiple batches of needles at each vaccination station whereby if a Black person sat down, the vaccinator would pull a needle from THIS special batch.  One batch for everyone.
There are more layers and complex issues to be addressed beyond a simple blog posting that will require more time and resources.  But now that the elephant has been escorted out of the COVID vaccine room, let's first clear away the fog of misinformation surrounding a few basic facts about the COVID-19 vaccine with a handy infographic we designed to be shared within your congregation, community and personal network.
CLICK TO DOWNLOAD: COVID-19 Vaccination Fact vs Fiction Infographic