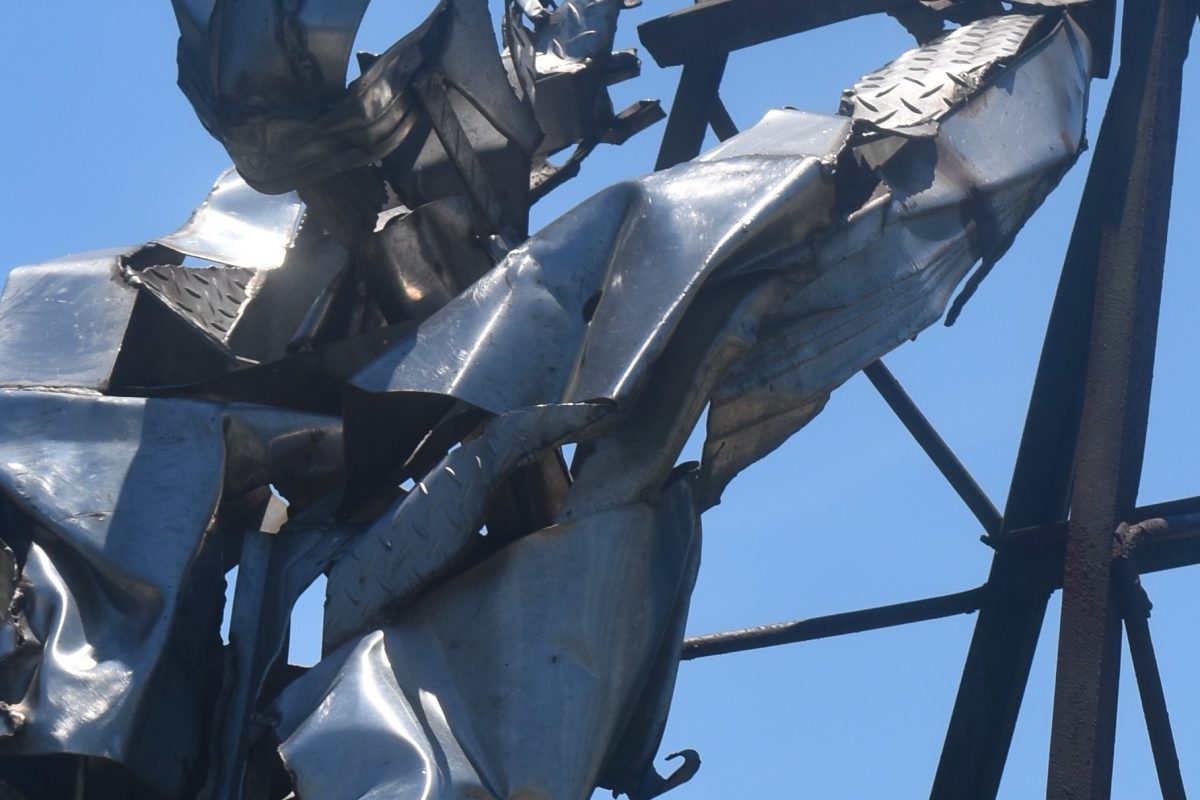 By Dora Muhammad, VICPP Health Equity Manager
—   In the center of the horseshoe driveway, a metal sculpture draws your attention. Shrubs surround the artistic expression entitled, "Industry vs. Nature." It depicts two robotic human forms in angst with a looming lattice boom crane.  Undoubtedly, visitors understand that nature wins at Paradise Creek Nature Park.
The urban oasis at Paradise Creek in Portsmouth was the first of three stops on the Hampton Roads Environmental Justice Clergy Tour, "Get on the Bus: Exploring Faith, Place & Justice" on June 26, 2019. The tour was organized by Virginia Interfaith Power & Light (VAIPL) in partnership with the Center for Sustainable Communities, Johnson A. Edosomwan Center for Faith, Leadership & Public Life, and Baptist General Convention of Virginia. As the 39 participants walked the grounds, they discovered the green building designs that were integrated throughout the restored wetland on the Elizabeth River.
The optimism felt at this environmental haven was soon replaced by a sobering realism of the hard fight for climate justice in Black communities during the tour's second stop at the Thurgood Marshall Elementary School. Despite months of protests and petitions by Chesapeake residents, the city proceeded with plans last summer to build a stretch of the Southside Connector pipeline underground within 100 feet of the school. In addition to fears about the health and environmental impacts of toxic emissions and leaks, public outcry centered on the fact that the school is situated entirely within the incineration zone should an explosion occur.
The need to support Hampton Roads communities in their struggles against environmental racism was further amplified during the final stop on the tour, Lambert's Point in Norfolk. This historically Black neighborhood sits one street away from Pier 6, the largest coal export facility in the Northern Hemisphere. For decades, coal dust has spewed from tops of train cars carrying mounds railed from southwest Virginia mines. Blanketing streets, permeating the air and penetrating inside homes, the microscopic sands continue to choke out calls from residents for help as their doorways darken in the shadow of corporate profits.
We are committed to bringing environmental justice to communities of color throughout the Commonwealth. VAIPL is currently scheduling meetings with lawmakers in Hampton Roads. To get involved, contact shockaday@vaipl.org.
Experience the tour in my photo essay about this journey here.