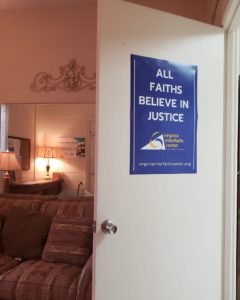 About Us
Beginning in the fall of 2018, major congregational outreach within the Greater Prince William area has centered on health equity, after the historic passage of Medicaid Expansion. The outreach was spearheaded by Dora Muhammad, VICPP's Congregational Engagement Director, who is a resident of Prince William County and served as our Health Equity Program Manager at that time. Dora launched VICPP's Health Care Hope Program which laid the groundwork to broaden our advocacy to other key areas and led to opening of a satellite office in Woodbridge in the summer of 2019. We are continue to coalesce congregational engagement in the area with a plan to formally establish a chapter in 2021.
Get Involved
We want you and your congregation to join us in our advocacy work. Contact Dora Muhammad to see how you can get involved. We are currently looking for a chapter leader so please let us know if that would be a good fit for you.
Ongoing Issues
Clergy leaders and members of congregations in the Greater Prince William area have been involved in many key VICPP issue areas by hosting, participating, promoting or organizing critical community events.
Health Equity
We have been active in health equity work by increasing awareness of Medicaid expansion starting in 2018 and continuing today. We regularly take part in community events like a roundtable to promote immigrant health at Manassas Church of the Brethren in August 2019.
Civic Engagement
In September 2019, we took part in a panel called "The Pathway to Peace" at Masroor Masque.
Racial Justice
In October 2019, we took part in a Justice Forum at Freedom High School.
Environmental Justice
In December 2018, we took part in a Coal Ash Townhall at Dumfries Elementary School.
Interfaith Relationship Building
Partner Congregations in the Greater Prince William Area
First Baptist Church of Manassas
Manassas Church of the Brethren
St. Francis of Assisi Catholic Church
Dale City Christian Church
First Mount Zion Baptist Church
St. Paul United Methodist Church
Ghana Wesley United Methodist Church
First AME Church of Manassas
Hillendale Baptist Church
Sacred Heart Catholic Church