About Us
The Hampton Roads Chapter of VICPP is open to people of all faiths and good will who live in the area, including Norfolk, Portsmouth, Suffolk, Virginia Beach (east side of HRBT). Our chapter is led by Rabbi Ellen Jaffe-Gill.
Social Justice University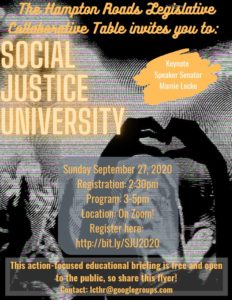 Join us for virtual Social Justice University on Sunday, September 27 from 3-5pm. We will hear from keynote speaker Senator Mamie Locke. This action-focused educational briefing is free and open to the public, so share this information with your friends!
Make sure to register here: bit.ly/SJU2020
Partner Faith Communities in the Hampton Roads Chapter
Coastal Virginia Unitarian Universalists
Virginia Beach Friends Meeting
Fellowship of the Inner Light
Second Calvary Baptist Church
St. Andrew's Episcopal Church