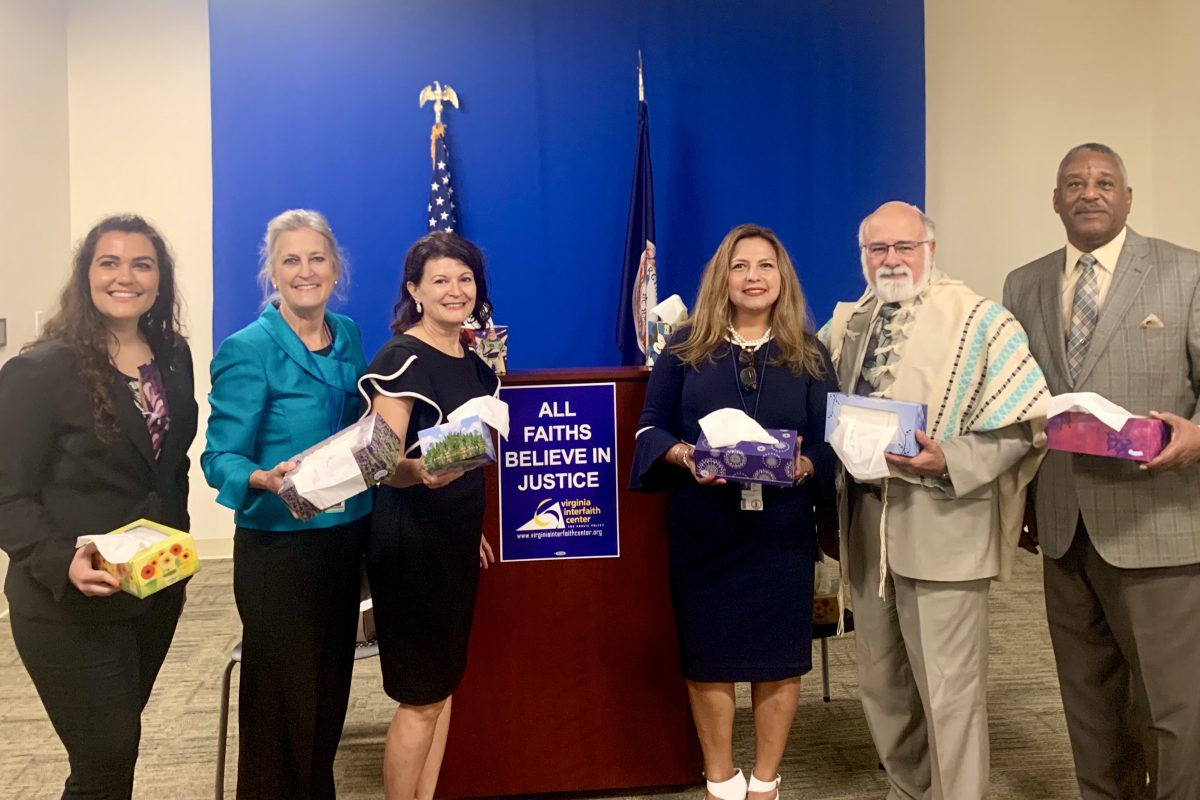 Imagine a random Wednesday when you wake up and aren't feeling well. You've got a cough or a fever and you know you should stay home from work so that you don't get other people sick and you can rest and get well.  For many, that is not a difficult decision to make. I am among those lucky employees who work at companies that offer paid sick leave. Not every Virginian has that privilege. In fact, 1.2 million Virginians, many of whom are low wage earners, do not have any paid sick days. For these individuals, there is a tough decision to make when they, or a family member gets sick. They have to consider whether they can afford to take an unpaid day to stay home and still be able to pay their bills and not face repercussions at work.
Imagine having a sick child on that random Wednesday. A parent has to decide whether they can afford to take an unpaid day from work so that their child can stay home from school, or send their child to school in hopes that they will get through the day without being sent to the school nurse. We all know what happens when a sick child goes to school – germs spread and soon there are multiple sick children in the classroom, the playground and on the school bus. Similarly, if a parent goes to work sick, they are likely to spread those germs to co-workers or customers.
Thomas Calhoun, President of the Norfolk Federation of Teachers, was an elementary school teacher for 17 years. He spoke at a press conference today hosted by the Virginia Interfaith Center for Public Policy to mark the launch of its campaign for a paid sick day standard in Virginia. At a podium lined with tissue boxes, Calhoun recalled the constant need in his classrooms for an unlimited supply of tissues for his sick students, "I had stacks of tissue boxes in my closet, because students come to school sick and then have to stay at school sick because their parents cannot come get them because they don't have paid time off. I gave out a lot of tissues over the years to sick children."
Tissues aren't the answer and parents and workers shouldn't have to make this difficult choice. Senator Barbara Favola and Delegate Elizabeth Guzmán are taking action. They are co-sponsoring a Paid Sick Days bill in Virginia's 2020 General Assembly that would require employers to grant five annual paid sick days or paid time off days to full-time employees. At the press conference, Senator Favola said, "This is common sense and it's a public health issue. People are going to work when they should be staying home and taking care of themselves, but they can't afford to take that day off. We can't be penny wise and pound foolish. It's not an excessive burden for businesses and many businesses know it's the right thing to do. We need to protect our families, protect our workers, and make Virginia a healthier place."
Delegate Guzman remembers facing this problem with her own children, "As a mother, I know how hard it is to juggle a full-time job and a family. I have four children. When kids get sick and need to go to the doctor you must see that they get care." But, she noted, many families do not have that choice, "when going to the doctor means less money coming to the home, it's a tough decision. We need to ensure that parents across the Commonwealth have the time to visit the doctor and have the time to take their children and their parents to the doctor."
Kim Bobo, executive director of the Virginia Interfaith Center for Public Policy noted, "the Interfaith Center has chosen paid sick days as its top legislative priority because it is a clear moral issue, helping families and low wage workers. It helps business and schools and the overall public health. It's a common-sense approach to a very serious problem."
Virginia has the opportunity to join 13 other states that have paid leave standards already in place.  Delegate Guzmán, who has been a long-time supporter of a paid sick leave policy, said, "lifting up working families is lifting up Virginia." Let's lift up Virginia by allowing those who are sick to remain home without losing pay or spreading germs to others. Let's keep the tissues at home!
By, Renee Robinson, Community Member and Advocate for Change
Photo: Sept. 5, 2019 Press conference speakers: (L-R) Amanda Silcox, VICPP program manager; Kim Bobo, VICPP Executive Director; Senator Barbara Favola; Delegate Elizabeth Guzmán; Rabbi Gary Creditor, VICPP board member; Thomas Calhoun, President, Norfolk Federation of Teachers