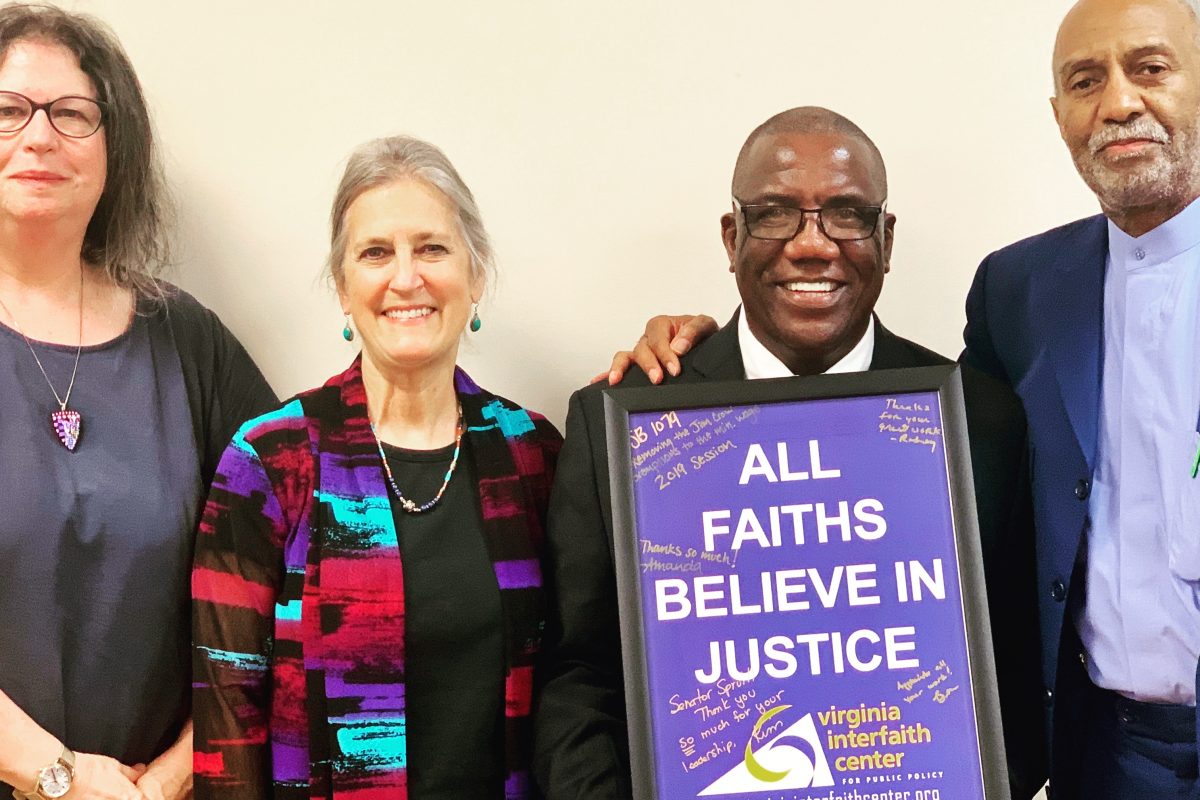 Senator Lionell Spruill, Sr. (D-5th, Chesapeake City, Norfolk City) was honored by more than 40 people at a legislative champion at a luncheon at the First Baptist Church in Norfolk on Thursday. (Photo: L-R, Rabbi Ellen Jaffe-Gill, Kim Bobo, Senator Spruill, Pastor Rodney Hunter)
Hosted by the Virginia Interfaith Center for Public Policy, the award celebrates Senator Spruill's leadership on the passage of a bill (SB 1079) that removes Jim Crow-era language from Virginia law.
The language stipulated that, "newsboys, shoe-shine boys, ushers, doormen, concession attendants, and cashiers in theaters" would be exempt from Virginia's minimum wage requirements.
These professions, historically held by African-Americans, deserve to be paid at least minimum wage. The Virginia Interfaith Center partnered with the Senator to build support with constituents and legislators and help pass this bill, which was signed by Governor Northam on March 8, 2019.
In the year marking the 400th anniversary of the arrival of the first Africans to be sold into slavery in North America, we celebrate this symbolic victory. We also acknowledge the pressing need for the continued work of the staff and volunteers at Virginia Interfaith Center whose mission is to advocate economic, racial and environmental justice.
Benjamin Hoyne, Policy Director for VICPP said, "We are grateful for Senator Spruill's leadership on this important legislation. This bill removes government-sanctioned discrimination based on someone's job title. This is a great victory for workers in our Commonwealth."
The luncheon also marked the launch of a Hampton Roads chapter of the Virginia Interfaith Center which will be led by Rabbi Elle Jaffe-Gill of the Tidewater Chavurah. If you are interested in joining the chapter, please contact amanda@virginiainterfaithcenter.org.
Photo: Kim Bobo and Pastor Rodney Hunter (Co Executive Directors of Virginia Interfaith Center for Public Policy) present a signed poster to honor Senator Lionell Spruill, Sr.