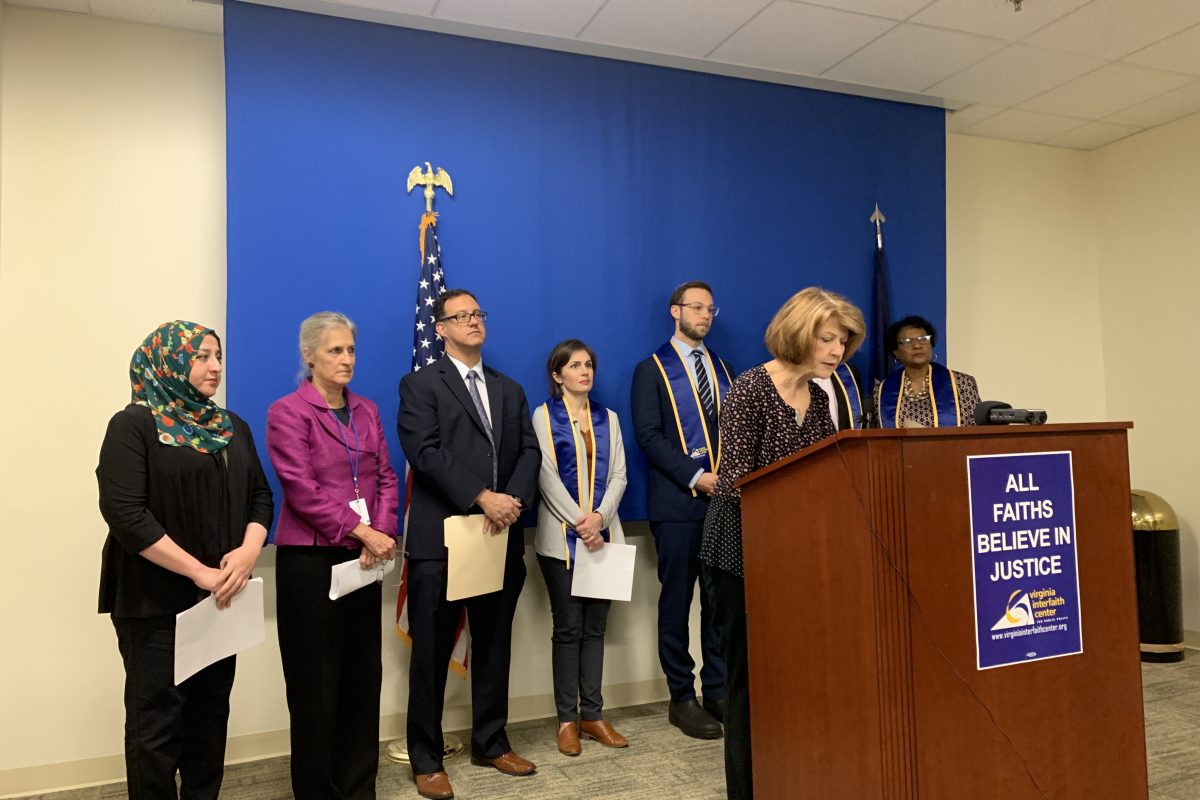 By Julie Swanson,
For the second time in two years, the Virginia Legislature failed to pass a bill that would have allowed anyone to carry dangerous weapons, including guns, in houses of worship.  SB 1024, introduced by Senator Dick Black (R-Loudon Country), passed the Senate but died in the House Rules Committee.  The bill would have repealed a law that's been on the books since the 1950s.
On February 7, 2019, the Virginia Interfaith Center for Public Policy (VICPP) held a news conference where faith leaders from churches, synagogues, and mosques stood together to speak out to oppose this dangerous bill. VICPP also organized a state-wide effort – arranging more than 30 constituent meetings with legislators and an extensive letter-writing campaign, launching three online petitions, and inviting faith leaders to serve as witnesses in hearings to oppose SB 1024. As a result of this extensive advocacy work, VICPP has been credited with helping to kill this bill.
Julie Swanson, the former CEO of Lutheran Family Services of VA and current Board President for VICPP, was involved in the advocacy campaign and served as the press conference moderator.  Swanson said, "As people of faith we want our worship spaces to be sanctuaries; places of refuge and peace.  This bill violates the freedom of religious communities to determine their own security plans."  Reporters from more than ten media outlets covered the press conference and heard powerful speeches from religious leaders from Catholic, Muslim, Jewish, Baptist, and Korean Presbyterian houses of worship.
Currently, Virginia law prohibits people from bringing weapons and guns into places of worship "without good and sufficient reason."  Only police officers, security guards and those who have a reason to carry a weapon into a house of worship are permitted to do so.  If Senate Bill 1024 had become law, it would have allowed anyone – including untrained or unstable congregants or guests – to carry dangerous weapons into houses of worship.
Faith leaders believe that unskilled people using guns in a stressful situation will likely result in more harm than help. They are also concerned about the potential for accidents as people move around during worship. A gun could easily fall from a coat pocket and be picked up by a child. In the event of an actual attack, the presence of armed persons within the congregation would likely result in more injuries, and create confusion for first responders arriving at the scene trying to identify the attacker.
Religious leaders recognize the need to keep their congregants safe and this bill would have undermined their authority to design a security plan for their own communities. Since 1950, Virginia legislators from both parties have supported the continuation of the ban on carrying weapons into houses of worship. SB 1024 would have put faith communities and all Virginians at risk.
Our faith values teach us to live in compassion and concern for the common good – that is why we stand with those working to ensure a decrease in gun violence. Houses of worship are sacred spaces that teach messages of peace and love of neighbor. The Virginia Interfaith Center for Public Policy was at the forefront of this critical legislative victory and continues to fight for social justice in the Commonwealth.
The Virginia Interfaith Center is the ELCA and Virginia Synod Public Policy Office.  For additional information about the Center and its public policy work on issues including wage theft, criminal justice, environmental justice, Medicaid expansion, and immigrant rights, visit www.virginiainterfaithcenter.org.
Please sign up to receive updates and join this dedicated group of people doing important advocacy work: www.virginiainterfaithcenter.org/email-list